The team here at On Deck Aviation had a great time working with the Lonian team to successfully integrate their helicopter with their new superyacht. We worked closely with the Captain to make appropriate helideck design suggestions, train the crew on helicopter operations, and find top-notch pilots for the owner. Read more about the project in SuperYacht Times' article below:
"Having spent just over a year enjoying the privacy onboard his 87-metre Feadship, the owner of Lonian has showcased a selection of up close and personal images of the superyacht in all her glory. Wanting to be close to the water, preferably at anchor and away from marinas, the owner appointed Sinot Exclusive Yacht Design to incorporate 22 openings into the exterior design to fulfil his brief. Spending time in secluded locations requires a plethora of tenders and toys, including an AW169 helicopter and a 66-metre support vessel with a crew of up to 20.
On the water, Lonian's masculine exterior profile retains elegance, notably with her dark blue hull – a challenging and unforgiving choice of hue created especially by Feadship's paint team. Her striking bow is defined by the signature V-cut feature on both port and starboard side – a platform for the wealth of glass featured in the wide body section and the full-beam main deck. The main deck is devoid of sidewalks and so crew and service traffic is diverted to the lower deck.
Having synchronised practical requests with smart aesthetics, Feadship's engineering team devised a solution to fulfil the owners' desire for a swimming pool with a translucent bottom that forms the ceiling of the beach club below. The surface of the pool was engineered to sit 50cm above deck height to create a superb relaxation area surrounded by cabanas. An integrated cinema screen at the end of the pool is hooked up to the yacht's high-end audio installation – a feature which was made possible after the build team spent time creating a life-sized mock-up of the stern. To create the beach club below and avoid increasing the height of the hull, the owner, Sinot and Feadship worked to safeguard the three surrounding platforms aft, port and starboard against flooding by building them a certain height above the water…"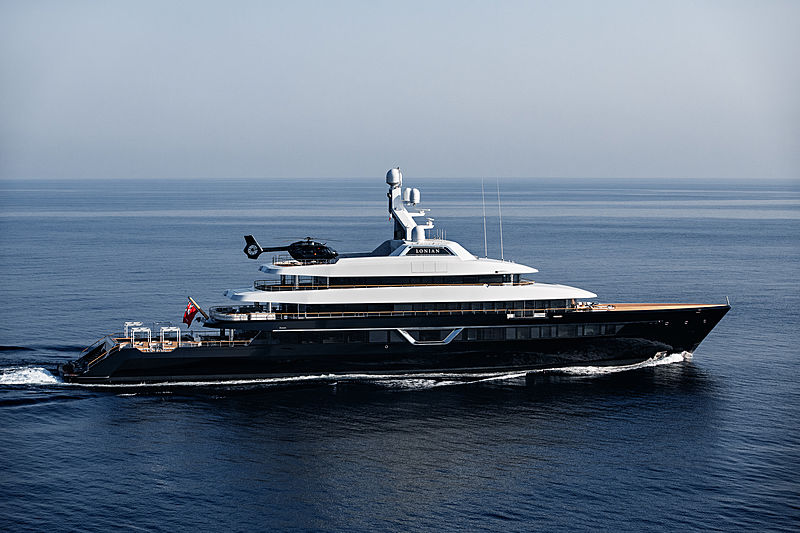 Source: https://www.superyachttimes.com/yacht-news/yacht-lonian-unveiled